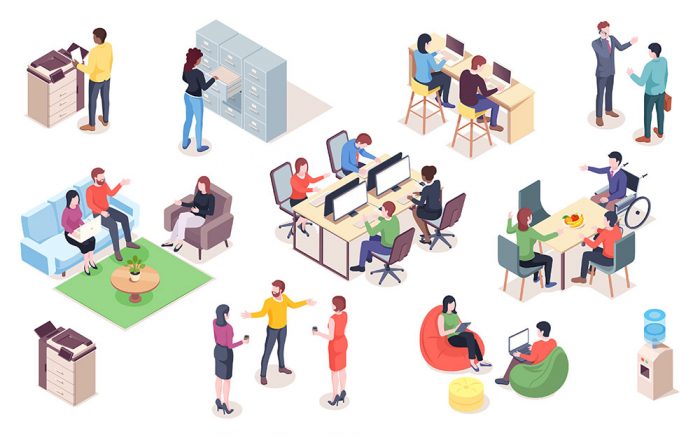 What Canadians love — and dread — about returning to the office
As most of Canada continues its reopening from coronavirus-related closures and vaccination figures reach key milestones, more employers are making plans to bring long-remote employees back to the office or physical workplace.
But how many companies have actually shared their plans with staff, and what's encouraging some workers to make the return – and keeping others away?
In the latest edition of the Workforce Confidence Index – based on a regular pulse of 1,000+ members in Canada – we look at what employers are planning to do about reopening, and what the workforce has to say about it.
Nearly a third of employees still in the dark on office return:
A majority of companies appear to be making concrete plans for a return to the workplace in the next six months, with 57% of respondents in Canada saying their employers have indicated that a return to the office or physical workplace will happen within that time frame. 
Just 10% have been told that they won't be returning to the physical workplace within that period, while a further 33% of employees said they've been left in the dark, without clarity from their employers on whether this will happen.
As for longer-term policies about remote or hybrid work, a large number of employers have yet to clarify where their employees stand, either for full or part-time remote work. While 42% of employees have been told they'll have the option to work remotely part of the time long-term, another 42% have received no information from their employers on the subject, and 16% have been told that it will not happen. 
For longer-term full-time remote work, 35% of employees have heard it will happen, while 21% have been told it will not be an option and 43% have yet to hear a policy on it.
As for flexible hours? Nearly half (46%) of employers have yet to announce a policy on whether staff will be allowed to have the flexibility to work an adjusted schedule or step outside of their normal working hours longer-term.Some 38% have indicated that employees will have this flexibility, while the remaining 16% have specified it's not happening.
Who's been remote all along? About 31% of respondents said they have worked onsite throughout the pandemic, while 12% said they've alternated between remote and onsite multiple times throughout the pandemic and 25% said their whole organization has been remote throughout.
The draws [and misfires] of the office
Views around returning to the physical worksite – be it full-time, part-time, or not at all – have been highly polarized in recent months amid fierce debate over the future of work.
For some, a return to the office is seen as an ultimate goal to restore workplace productivity and bonds. Jamie Dimon, CEO of J.P. Morgan, made headlines recently when he said remote work "doesn't work for those who want to hustle."
Others, meanwhile, find virtue in exploring remote and hybrid opportunities longer term, arguing it's better for employee wellbeing and inclusion, and can be just as productive. Google CEO Sundar Pichai recently stated that "the future of work is flexibility" as the tech giant crafted its future working format.
So what specifically do Canadian employees like – and dread – about the idea of returning to the physical workspace? Here's what they said:
Overall, the biggest draws of the physical workplace were opportunities to collaborate on work in person (66%) and the chance to socialize with others in person (65%), be it with colleagues, customers or clients. 
Nearly half (48%) of respondents also said they were looking forward to workplace perks, advancing in their careers as quickly as possible, or having meetings where other attendees are in the same room. 
Dressing up for work was polarizing. While 30% overall cited dressing up as a factor encouraging them to return to the physical workplace, 28% said it was actually a discouraging factor about returning.
The same was true for the ability to do focused work: while 45% said it was a factor encouraging them to go back to the workplace, 18% said it was actually a discouraging factor, with them presumably finding other workspaces less distracting.
And what about the good old days? Just over a third of respondents said they were drawn to the office to feel like work is "the way it used to be," but another 20% balked at the idea of returning to the old normal, labelling it a discouraging factor.
We also observed differences in these views on the workplace by generation:
Baby boomers were less likely than average to look forward to the social aspects of the workplace. They were also less drawn in by the prospect of workplace perks, or faster career advancement, and more likely to appreciate the office's opportunities for focused work. They were the least put off by the idea of dressing up for work, and nearly a third said dressing up was an encouraging factor.
Millennials, in contrast, were the least enthused about feeling like work is "the way it used to be," dressing up for work and in-person meetings. They were the most tempted back in by workplace perks and the prospect of advancing their careers as quickly as possible.
Gen X was the generation most enthused by the prospect of having opportunities to collaborate on work in person.
Gen Z was not particularly enthused about collaborating on work in person, but was the most encouraged of all generations about returning to the workplace to socialize with others. They were more tempted than average at the prospect of returning to do focused work, but less consumed by advancing quickly in their careers.
Responses varied slightly by gender, too, but reported differences between men and women's views on the office were small:
On the whole, men were slightly more likely to say they were enthused about having meetings with others in the same room (48% of men vs 40% of women) and feeling like work is "the way it used to be" (38% of men vs 32% of women).
Women, conversely, were more discouraged by the idea of dressing up for work (31% said it was a factor discouraging them from returning, vs 25% of men) or going in for focused work (22% vs 16%).
The overall confidence picture
Total Workforce Confidence scores for Canada reached a new high in early June before dipping slightly in July, suggesting Canadians are broadly feeling okay about their job security, personal finances and career prospects.
Compared to April/May, Canadians were feeling more confident about the availability of jobs, their opportunities to grow their skills, increase their income and progress in their careers.
People reported feeling slightly better about the status of the pandemic, jobs availability and their organization's recent performance, compared to how they felt in April and May.
Which industries have the most positive outlook?
We also asked professionals across different industries in Canada whether they thought their companies would be better or worse off in six months:
Workers in finance remained the most optimistic about the future for their employers over this period.
Those in the travel and recreation industry were the next most optimistic that their employers will be better off, marking a huge turnaround in their outlook after a prolonged rough period. The change in outlook comes amid recent announcements that Canada plans to gradually reopen its borders to vaccinated travellers.
Workers in manufacturing, transportation and logistics, and software and IT services were also optimistic in absolute terms, while retail workers saw a marked increase in confidence about the months ahead compared to how they felt earlier in the year.
The energy and mining sector continued to post increases in confidence about the future, reflecting a significant turnaround from a year ago and even late 2020.
Workers in the wellness and fitness and consumer goods industries saw the steepest drop in confidence about the outlook for the rest of 2021, compared with how they felt in the first quarter of the year.
Education, health care and public administration workers were the least confident that the situation for their employers would improve.
Methodology
LinkedIn's Workforce Confidence Index is based on a quantitative online survey that is distributed to members via email every two weeks.
Roughly 10,000+ members respond each wave, based in the U.S., Canada, Brazil, the U.K., France, Germany, Spain, Italy, the Netherlands, India and Australia. Members are randomly sampled and must be opted into research to participate.
Students, stay-at-home partners & retirees are excluded from analysis so we're able to get an accurate representation of those currently active in the workforce. We analyze data in aggregate and will always respect member privacy.
Individual confidence index scores are calculated by assigning each respondent a score (-100, -50, 0, 50, 100) based on how much they agree or disagree with each of three statements, and then finding the composite average score across all statements.
— Alexandra Gunther from LinkedIn Market Research and Greg Lee, designer at LinkedIn, contributed to this article.
Via LinkedIn – Canada Workplace Insights