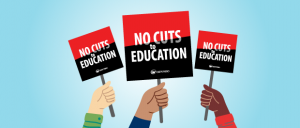 Provincial Schools Authority Teachers (PSAT)—No Cuts to Education Rallies
The Provincial Schools Authority Teachers (PSAT), District 30, have organized several No Cuts to Education rallies over the last couple of weeks.
The rallies have been organized throughout the province to bring attention to cuts to funding that have consequently led to a systemic lack of resources and debilitating cuts to essential services that have had a tremendous negative impact on students and staff.
OSSTF/FEESO encourages neighboring districts to show their support and solidarity with the members in District 30.
Date: April 5, 2022
Location: Robarts School for the Deaf (1515 Cheapside Street, London, ON N5V 3N9)
Time: 4:00 p.m.–5:00 p.m.
Date: Wednesday, April 13, 2022
Location: W. Ross Macdonald School (350 Brant Ave, Brantford, ON N3T 3J9)
Time: 3:45 p.m.–4:45 p.m.
Provincial Schools Authority Teachers (PSAT)—No Cuts to Education Rallies