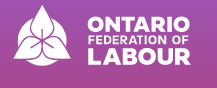 IT'S TIME TO CUT DOUG FORD OUT OF THE PICTURE
With the election less than two months away, we need your help to spread the word.

Step 1: Watch the video.
Step 2: Learn more about the ways Ford has failed Ontario here.

Step 3: Share the video and campaign with your friends, family, and wider community.
We need everyone to see just how paper thin Doug Ford's record of supporting workers truly is. He's in it for big businesses and wealthy developers—not for working people. The more we share this message, the larger our movement grows and the stronger our momentum becomes. So join us and get the word out there.
Share the campaign now:
Thanks for joining us in this fight.
Ontario Federation of Labour