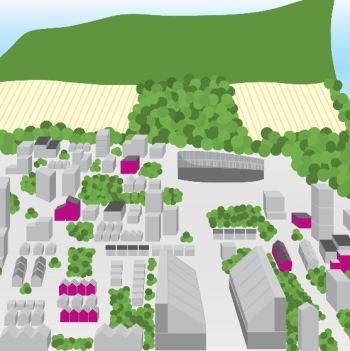 Laurier's Milton Campus Officially Approved
As announced by Deb Mcclatchey to all faculty and staff this morning, the Laurier community is growing! Earlier today it was announced that the Government of Ontario has given its approval for Wilfrid Laurier University to establish a new university campus with its educational partners in Milton. This announcement has been a long time coming and something the Laurier community has been talking about, and hoping for, for the last several years.
Thanks to the Laurier partnership with the Town of Milton, this new campus will be adjacent to lands for Conestoga College's Milton campus. The Milton campus gives Laurier a place within one of Canada's fastest-growing communities, centered in the Waterloo-Toronto Innovation Corridor. The plan for this campus includes an expansion of Laurier's STEAM (science, technology, engineering, arts and mathematics) offerings under a planetary health umbrella, a field that examines the interdependence of human health and the health of the environment. The Milton campus will be research-intensive and extend Laurier's research focus in sustainability, climate change and water with new opportunities focused on the STEAM fields, including engineering.
The new campus will be situated on approximately 103 acres of land donated to the university by the Town of Milton that includes 33 acres of developable land and 70 acres of undeveloped greenbelt land. The campus will scale to approximately 2,500 students in the first decade, with Laurier's first building anticipated to open in 2024. Laurier is looking forward to the opportunity to work together with the Mississaugas of the Credit First Nation to build a meaningful partnership incorporating Indigenous knowledges and practices on the Milton campus.
You can check out the Government of Ontario news release and Laurier news release for more details about the program offerings and development plans.
Laurier has scheduled a Milton Town Hall for faculty and staff on June 22 at 9 a.m. to share further details. You can click here to register and go here to advance questions. They've also created the Milton Strategic Initiative web page to keep everyone up to date on project news.
There is a short video announcing Laurier's new Milton campus that you can watch and share on social media if you are so inclined.