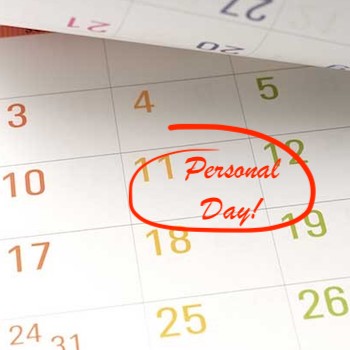 Did you know? Personal days are personal
Refer to Article 25.12.1 in the Collective Agreement for official language.
Wilfrid Laurier University Staff Association (WLUSA) Members are entitled to use up to 3 personal days per fiscal year (May 1 to April 30) without loss of compensation and benefits.
Examples of personal leave absences include:
illness in the immediate family (Article 25.16.2)
relocation of your household
preparation for an writing an examination
legal appointments
major property damage
additional bereavement leave (Article 25.3.4)
observation of religious holidays not identified as a Paid Holiday
extreme weather (Article 25.9.7)
The list that is outlined in the Collective Agreement is meant to serve as examples of situations where a personal leave may be requested. That being said, the language "but not limited to" clearly demonstrates that the above list is not exhaustive.
Requesting a Personal Day
When members request a personal day, managers have the right to ask whether the request fits under the definition of Article 25.12.1 but are not permitted to ask for details. Members are advised to provide their request in writing and with as much advance notice as possible.
The request for a personal day will not be unreasonably denied provided that the leave can be reasonably accommodated. If you have any questions or concerns please contact the WLUSA office at wlusaadmin@wlu.ca.