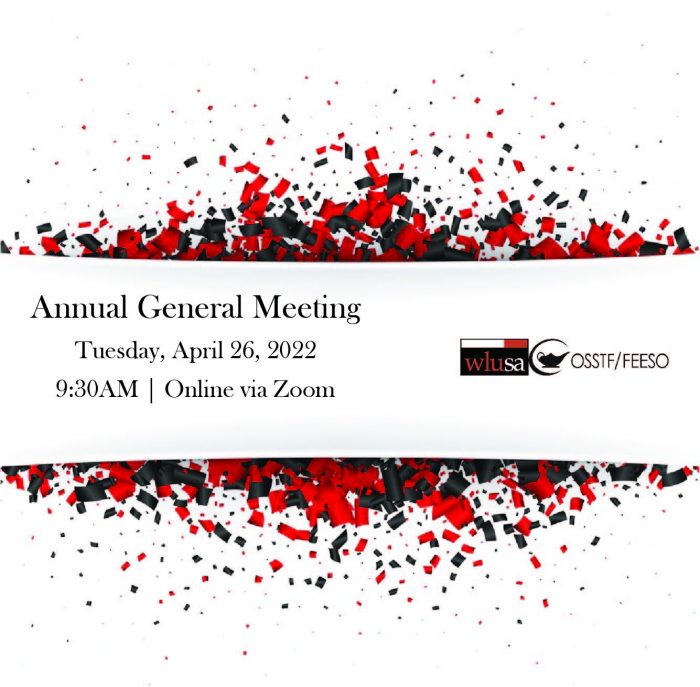 WLUSA 2022 Annual General Meeting
Date and Time
Tuesday, April 26
9:30 am - 1:00 pm
Event Details
Welcome to the 2022 Annual General Meeting (AGM) Event Page.
Attendance and Release Time 
Language in Article 3.4.3 of the Collective Agreement allows for a release period of 2.5 hours for WLUSA Members to attend the Annual General Meeting with no loss of compensation and benefits. Please be advised that WLUSA has agreed to verify the attendance of any Member if the University requests verification of attendance. Please ensure that you have requested approval from your manager to attend this meeting at least one day prior to the meeting.
---
Executive Officer Elections

Elections shall be held at the 2022 AGM for the following positions:
Vice-President: Internal
Vice-President: External
Treasurer
Chief Negotiator
Member-At-Large (1 position)
Information on the duties of each Officer can be found in Article 6 in the WLUSA Constitution.
Nomination forms must be submitted to the WLUSA Office via email (wlusaadmin@wlu.ca) by Thursday, April 14, 2022. On April 18, the Elections Officer will inform all WLUSA members of the list of candidates who have, by that time, been nominated for each position. Should an election be required, all candidates nominated may present a speech to the Membership at the AGM prior to the election for the position for which they are running.
---
WLUSA Student Award Application

WLUSA established this award to financially assist dependent children of WLUSA members to attend college, university or apprenticeship programs (with the exception of children who will be attending WLU).  Five $1,000 awards are available this year.
Criteria
The applicant must be a dependent child or ward of a member, or recently deceased member, of WLUSA in good standing.
The applicant must have applied to enter and have accepted, or be currently enrolled in a publicly-funded post-secondary college or university program (other than WLU) or an apprenticeship program that includes an academic portion offered through a college. All awards are made conditional upon the recipient being enrolled in the program for which the award is being requested (proof of enrollment/acceptance must be provided and submitted along with the application).
Definition of a dependent child: A natural, adopted or stepchild of the employee who is under twenty-six (26) years of age and either lives at home or is financially supported by the employee.
The names of eligible applicants will be placed in a draw to be held at the Annual General Meeting. Five names will be drawn.
To apply, please complete the WLUSA Student Award Application Form. Applications, along with proof of enrolment, must be emailed to wlusaadmin@wlu.ca no later than 4:30pm on Wednesday, April 20, 2022.
---
Constitution and Bylaws Amendments
Members may submit proposed constitutional amendments to wlusaadmin@wlu.ca. Please review Article 16 in the WLUSA Constitution for further information.