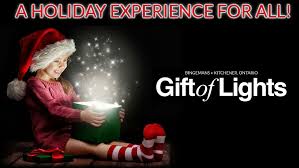 2021 Bingemans Gift of Lights
Date and Time
Saturday, November 13 - Sunday, January 9
All Day
Event Details
Happy Holidays! Gift of Lights is a family-friendly drive-thru holiday light display with two tunnels and over 300 animated and static light displays! Enjoy this holiday spectacle from inside the comfort of your own vehicle and tune into Gift of Lights Radio at 103.3FM.
This event runs from November 13, 2021  – January 9, 2022.
These tickets can be used on any night* without booking a reservation.
More information can be found at http://bingemans.com/giftoflights/
Additional Details
Cost: $10.00 per vehicle
Limit: 1 ticket per Member. If you attempt to purchase more than 1 ticket, WLUSA reserves the right to call Santa to have coal sent to your home on Christmas Eve.
Payment: E-transfer only. Once purchased, tickets are non-refundable.
How to Purchase: Complete the following Qualtrics form to reserve your ticket
* Tickets cannot be used on WALK ONLY nights (Sunday, November 28, Monday, December 13, and Sunday, January 2)